THE KID IS IN SWEDEN
EVERYTHING IS GOING SO FUCKING COOL...JUST SMASHED THE PLAYDOE TOUR WITH SCI FI AND I AM NOW JUST EATING CHILLI COATED NUTS IN BED...FIGHTING WITH A FAT CAT NAMED MIKE TYSON FOR A GIRL'S AFFECTION.
LIFE IS GOOD.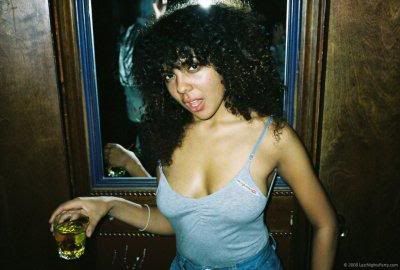 I WENT TO SEE MAPEI AND BUNNY RABBIT AT A LESBIAN PARTY IN UPSALLA ON SATURDAY...ALOT OF DRAWN ON MOUSTACHES AND SPIKEY CREW CUTS...FOR THE MOST PARTS IT WAS ALL OF MY NASTIEST FANTASIES GONE WRONG...LESBIANS MAKE FOR LAME RAVERS. NOT NEARLY WILD ENOUGH. SO HALF HEARTED. BECAUSE I'M CHEAP AND TACKY I'LL COMPARE IT TO THE GAY RAVER CREWS I KNOW THAT I KNOW...THE LESBOS NEED TO FUCKING MAN UP!! THEY ACT LIKE WHITE MEN...GAYS OUT THERE ACTING LIKE HYPER BLACK WOMEN...WHO PARTIES BETTER???
BUNNY RABBIT'S SHOW WAS QUITE BLAND...ALTHOUGH SHE'S INFINITELY SEXXXY OR SOMETHING...IT JUST DOESN'T WORK.
MAPEI SMASHED IT THOUGH.
I KINDA HATE MAPEI BY NOW...CAUSE SHE IS SO MUCH BETTER THAN SHE IS...LIKE I THINK SHE COULD REALLY BE DOING SOME MIND BLOWING SHIT, BUT SHE SPENDS HALF HER SHOW SLOPILY FREESTYLING BATTLING GHOSTS...SNORE...WHEN SHE DID ACTUAL TRACKS AND LYRIC IT WAS DUPPY SEASON!! MURDER!! SO FUCKING HOTT...SHE NEEDS A FUCKING PEP TALK OR SOMETHING!!
ON THE UPSIDE...SHE WAS IN AN ELECTRIC BLUE SKINTIGHT ONEPIECE BODYSUIT THING...AND HAS A GREAT BODY...PLUS SHE HAS TWO VOGUEING BACKUP DANCERS AND A GAY HYPEMAN WHO CALLS HER A TWO DOLLAR HOE...AND YOU CAN'T BEAT THAT WITH A CRICKET BAT! HE WAS FUCKING GREAT...HE SHOULD DO A TRACK ON THE SHOW!!! JUST A SUGGESTION
I AM INTRIGUED BY BLACK CRACKER FROM BUNNY RABBIT...I WOULD SAY DRAWN IF I DIDN'T FEAR A PUNCH IN THE FACE...HER TONE AND MANNERISMS
THUG HUGS AND FIST KISSES
SPOEK*JUSTMARRIED*MATHAMBO
I LEAVE YOU WITH THE KING YELLOW